Shipping Bags
    We ship your popcorn in these zipper sealed bags. They are black with our gold logo on the front and clear on the back, so the popcorn is visible. These bags keep your popcorn fresh while it travels and well beyond! Just remember to squeeze the air out before resealing. 
   Our large bag holds more than double the amount of the small bag. The small is good for 1-2 people or snacking sessions. The large is great for sharing or having plenty for snacking multiple times.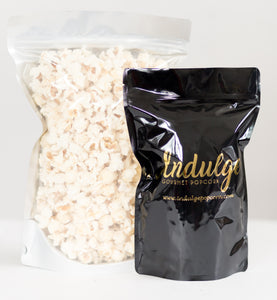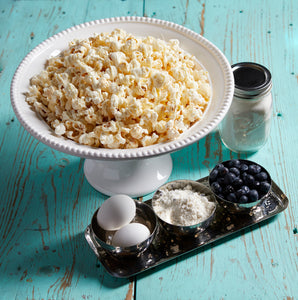 What Sets Us Apart
        Our popcorn is handcrafted with premium ingredients, the majority of which are all-natural, organic and nonGMO.
      We respect the popcorn kernel; it's a beautiful gift from nature! So, we will not pop it in unhealthy oils and coat it in synthetic ingredients. 
     You can find other companies that offer concession style popcorn that is produced that way, at a lower cost - in higher quantities - with a large variety of flavors. This popcorn can also sit on shelves for an extended amount of time. 
      We choose to keep it pure. We pop in coconut oil and pink Himalayan salt. We use real food ingredients for all of our flavors. And we offer only seven flavors at a time, making it in small batches, ensuring that what you receive is always fresh. We do not use preservatives.
    Variety is offered by introducing a new flavor each month that is only available that month.
*Some "Flavor of the Month" flavors require ingredients with an artificial flavor, if you have any questions about a special flavor of the month, please contact us.  
Visit Us!
99 Krog St. NE Suite O
Atlanta, GA 30307
404-343-3903

Sunday - Thursday ~ 12pm - 8pm
Friday - Saturday ~ 12pm - 9pm

Previous Location, Now Closed.
177 Peters St. Suite B
Atlanta, GA 30313